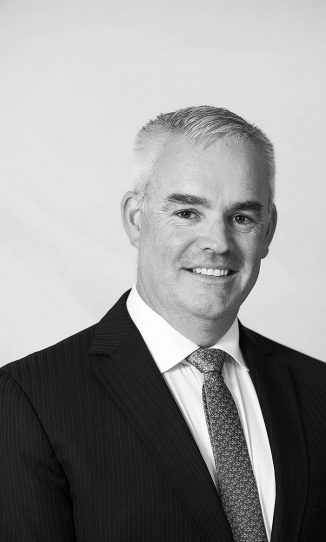 Graeme has been a barrister for more than 15 years. He regularly appears in the ACT Supreme Court, the Federal Court, the Federal Circuit Court (in Canberra, Albury and Wagga Wagga) and Family Court. He appears in the ACAT, Supreme Court of NSW and the ACT Magistrates Court. Graeme is a nationally accredited mediator.
Graeme is also heavily involved in teaching communication and advocacy related courses. He is a coach at Australian Bar Association Advocacy courses, and since 2008 as part of the Australian National University Masters of Legal Practice he has convened a course in Advocacy. Also within the Masters of Legal Practice, in recent years has co-convened the Insolvency Law course and the Family Law (complex property) and Family Law (Children) courses.
In 2018 & 2019, Graeme was recognised in Doyle's Guide as a leading Commercial Litigation & Dispute Resolution, Family Law, and Wills & Estates Litigation Barrister for the ACT.
Graeme is a keen cyclist and photographer. He enjoys a round of golf and is a passionate supporter of Liverpool Football Club (soccer) and Richmond FC (AFL).
Called to the Bar
2001
Phone
02 6247 1489
Email
gblank@blackburnchambers.com.au
Practice areas
Commercial law
Equity and trusts
Family law
Inquests and inquiries

Cases
Coronial Inquiry—death of Robert Douglas [2016, 2017]—Counsel assisting the Coroner. The
inquiry looked at Mr Douglas' medical history, diagnosis and treatment in hospital before his death
Re Adzic [2017] FCA 34—Bankruptcy, recovery of voidable transactions. Acting for bankruptcy
trustee
Denham Constructions Pty Ltd v Islamic State of Pakistan [2016] ACTSC (various)—building
security of payments claims
Roblin v Public Trustee (ACT) [2015] 10 ACTLR 300—preservation of sperm of deceased spouse;
property and intestacy
Hunt, Sciglitano and Ors v ACT, Revlon and Ors [2014] ACTSC catastrophic burns injuries for
multiple plaintiffs including nervous shock claims for two parents. Settled mid-trial
Denham Constructions Project Company 810 Pty Ltd v Smithies [2014] 9 ACTLR 146—Building
Security for Payment claims; estoppel
McKenna v the Commonwealth and Ors [2013] multiparty catastrophic injury claim. Settled at
mediation just prior to trial
QZ v Sydney South West Area Health Service [2012] HCA Trans 164—discrimination. Special leave
application—refused
Kirk v Industrial Relations Commission [2010] 239 CLR 531 (2nd junior counsel)—workcover,
administrative law norkel Elevating Work Platforms Pty Ltd and Another v Borren Metal Forming Ltd
(2010) 5 ACTLR 42—manufacturer liability in which defect caused paraplegic injury
Canberra Residential Developments Pty Ltd v Brendas [2010] 188 FCR 140—director's duties,
equity
Barecall v Hoban [2009] NSWSC 1104; [2010] NSWCA 269—guarantees, property
Malik v ANZ Banking Group [2010] ACTCA 11—priority of Torrens Title interest; mortgages
Makas v Peter Enders Building Consultant Pty Ltd [2009] ACTSC—amending pleadings after
limitation period expired
Mass (Australia) Pty Limited v R&B Crane and Rigging Pty Ltd [2008] 2 ACTLR 154—amendment
of name in statutory demand after 21 day period had expired
McKenzie v Storer [2007] 1 ACTLR 183—constructive trust, Domestic Relationships Act
Cooper and Ors v Westpac General Insurance Limited [2007] ACTCA 20—insurance recovery claim
for alleged arson
Snorkel Elevated Work Platforms v Nominal Defendant and Ors [2007] 1 ACTLR 110—Traynor v
ACT and Ors [2007] ACTSC 38—catastrophic personal injury and death
Shanahan v Ollier [2005] HCATrans 169—special leave refused; personal injury from golf ball
Publications
Graeme Blank and H Selby (eds), Appellate Practice, Federation Press, 2008
Graeme Blank and H Selby, Winning Advocacy, Oxford University Press 2004
Graeme Blank, "Report on Financial Clauses affecting Quantity Surveyors" – Report to the Australian Institute of Quantity Surveyors, 2008
Graeme Blank, Persuasion Techniques, ADR Bulletin (2 volume special edition), co-editor, November 2007
Graeme Blank, "Marshalling evidence using the Circles Method", Precedent (March /April 2005)
Graeme Blank, "Costs orders", Developments in Commercial Litigation, LAAMS 2000
Graeme Blank and H Selby, "What is an appeal", Appellate Practice, Federation Press, 2008
Graeme Blank and H Selby, "Frequent Issues", Appellate Practice, Federation Press, 2008