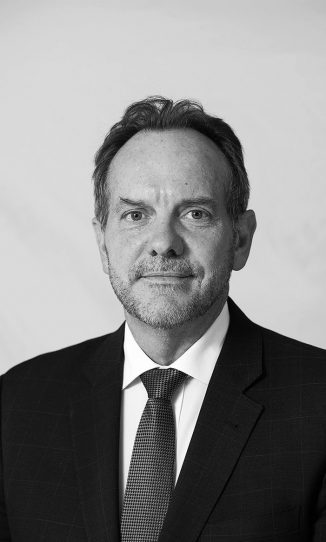 Following admission; David worked in private practice in the ACT as an employed solicitor and as a partner in a national law firm. David is a past committee member and Chairman of the ACT Continuing Legal Education Committee and a past ACT Law Society Councilor.
David has Chambers in Canberra (Blackburn Chambers) and in Sydney (Henry Parkes Chambers).
In January 2004, David commenced as a part-time Senior Lecturer in the Masters' program at the ANU.
In January 2019 David Richards was a recipient of the Medal of the Order of Australia (OAM) for service to the community through charitable initiatives.
Cases
Fischetti v Classic Constructions (Aust) Pty Ltd and Vero Insurance Limited [2013] ACTSC 210
Sellick v Australian Postal Corporation [2009] FCAFC 146
John Holland Group Pty Ltd v Robertson [2010] FCAFC 88
Commonwealth Bank of Australia v Reeve [2012] FCAFC 21
Drenth v Comcare [2012] FCAFC 86
Szabo v Comcare [2012] FCAFC 129
Australian Postal Corporation v Sinnaiah [2013] FCAFC 98
Smith v Comcare (2013) FCAFC [2013] FCAFC 65
Westrupp v BIS Industries Limited [2015] FCAFC 173
Smith v Comcare [2014] FCA 811
O'Kane v Comcare [2014] FCA 341
Illife v Comcare [2013] FCA 1434
Petgge v Linfox [2012] FCA 687
Smith v Comcare [2012] FCA 502
Von Stieglitz v Comcare [2012] FCA 55
Szabo v Comcare [2012] FCA 28
Dean v Australian Postal Corporation [2010] FCA 680
Australian Postal Corporation v Chalkley [2010] FCA 342
Fairweather v Australian Postal Corporation [2009] FCA 1290
Nelson v Comcare [2009] FCA 1149
Australian Postal Corporation v Hughes [2009] FCA 1057
Australian Postal Corporation v Sellick [2008] FCA 236
Jordan v Australian Postal Corporation [2007] FCA 2028
Lang v Comcare [2007] FCA
Lee v Military Rehabilitation and Compensation Commission [2006] FCA 1508
Military Rehabilitation & Compensation Commission v Clark [2006] FCA 306
Riddle v Telstra Corporation Limited [2006] FCA 58
Taylor v Australian Postal Corporation [2004] FCA 1265
Publications
David Richards, Male Circumcision: Medical or Ritual? (1996) 3 Journal of Law and Medicine 371
David Richards, Comcare Tricks and Traps s14 and s16 Determinations and Settlement Terms (2004) 65 Australian Lawyers Alliance Precedent 6
David Richards, Comcare 'Cease effects' decisions can be revisited (2004) 11 NSW Law Society Journal 64
David Richards, Comcare Cease Effects Decisions (2004) 194 ACT Law Society Ethos 20
David Richards, Administrative Appeals Tribunal—Recent Developments Comcare—Cease Effects Decisions (2005) Tasmania Law Society Journal
David Richards, Remittal Orders and Reconsiderations in the AAT (2005) 43 Vol 2 NSW Law Society Journal 69
David Richards, Remittal Orders and Reconsiderations in the AAT (2005) 195 ACT Law Society Ethos 18
David Richards, Comcare Cease Effects Decisions (2005) March Queensland Law Society Proctor 17
David Richards, Common Law Claims and the Expansion of the SRC Act (2005) May WA Law Society Brief 14
David Richards, Common Law Claims and the Expansion of the SRC Act (2005) 43 SA Law Society Bulletin 17
David Richards, Common Law Claims under an expanding SRC Act (2005) 43 NSW Law Society Journal 65
David Richards, Common Law Claims and The Expansion of the SRC Act (2005) 196 ACT Law Society Ethos 18
David Richards, Remittal Orders and Reconsiderations in the AAT (2005) Winter TAS Law Letter 20
David Richards, Defence to Commonwealth Injury Claims (2005) Spring TAS Law Letter Spring 17
David Richards, The Requirement for Causation Following Hannaford (2005) Summer TAS Law Letter 11
David Richards, The Un-Erasable Ledger Revisiting Comcare "Cease Effects" Decisions (2005) 79 VIC Law Institute Journal 52
David Richards, Defences to Commonwealth Injury Claims (2005) 198 ACT Law Society Ethos 17
David Richards, Defences to Commonwealth Injury Claims (2006) 44 NSW Law Society Journal 68
David Richards, The Requirement for Causation following Hannaford (2006) 28 SA Law Society Bulletin 22
David Richards, Common Law Claims and The Expansion of the SRC Act (2006) 80 VIC Law Institute Journal Volume 42
David Richards, Evidentiary Onus and Prejudice in the AAT (2006) 92 Tas Law Letter 25
David Richards, The Requirement for Causation Following Hannaford (2006) 199 ACT Law Society Ethos 16
David Richards, Evidentiary Onus and Prejudice in the AAT (2006) 28 SA Law Society Bulletin 21
David Richards, Evidentiary Onus and Prejudice in the AAT (2006) 44 NSW Law Society Journal 60
David Richards, Evidentiary Onus and Prejudice in the AAT (2006) 201 ACT Law Society Ethos 24
David Richards, Significant Contribution—Comcare Claims (2007) 203 ACT Law Society Ethos No 16
David Richards, Employees Must Establish 'Significant Contribution to Disease' (2007) 45 NSW Law Society Journal 41
David Richards, Employees Must Establish 'Significant Contribution to Disease' (2007) 95 Tas Law Letter 23
David Richards, Pre-Litigation Procedures—Civil Law (Wrongs) Act 2002 (2009) 213 ACT Law Society Ethos 11