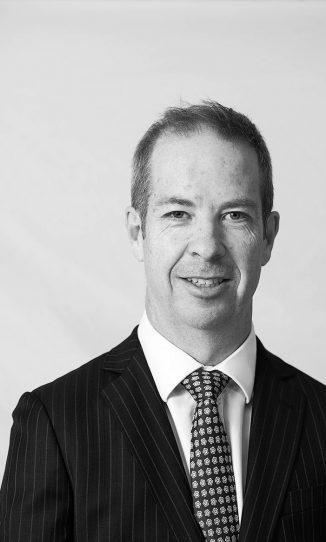 Marcus has more than 25 years' advocacy experience in a range of jurisdictions and courts, including 13 years with the Commonwealth DPP and 12 years at the Bar in the ACT. Marcus accepts briefs in a range of matters including commercial, administrative law (planning, revenue, ADJR, others), financial crime, inquiries and coronials and environmental law. Marcus was previously the CDPP's principal lawyer responsible for federal proceeds of crime proceedings, and maintains a specific interest in this area.
In 2021, 2022 & 2023 Marcus was recognised in Doyle's Guide as a Leading Commercial Litigation & Dispute Resolution Barrister in the ACT.
Marcus is currently the president of the ACT Bar Association.
Marcus is also a retired soccer referee.
Called to the Bar
2011
Admission as a legal practitioner
1994
Bachelor of Laws (Hons), Australian National University
1994
Phone
02 6130 0560
Email
hassall@blackburnchambers.com.au
Practice areas
Appellate
Commercial law
Criminal law
Family law
Inquests and inquiries
Proceeds of crime
Public / Administrative law
Town planning and development

Cases
Coombes v Capital Certifiers Pty Ltd (No. 2) [2023] ACTSC 9. Appeared unled in contested interlocutory application by defendant for leave to issue third party notice out of time to building company in liquidation.
Wu v Wu & Anor [2022] ACTSC 360. Appeared for first defendant (led by Philip Walker SC) in claim for breach of contract and alternatively unconscionable conduct and/or undue influence regarding historical transfer of ACT residential property.
Su v 5 Blackman Cres Macquarie Pty Ltd [2022] ACTCA 62. Appeared unled for respondent in contested application for leave to appeal from interlocutory case management decision of ACTSC dismissing proceedings for non-compliance with court directions.
O'Mara Holdings Pty Ltd v The Patch Australia Pty Ltd [2022] FCA 366.  Appeared for respondents (unled) in contested hearing for alleged misleading or deceptive conduct under Australian Consumer Law.
Scentre Management Ltd v Planning and Land Authority [2021] ACTSC 171. Appeared for respondent (led by Tom Howard SC) in judicial reviewing proceedings relating to planning approval for proposed Belconnen Markets redevelopment.
Village No 22 Pty Ltd v Planning and Land Authority of the ACT [2021] ACAT 43. Appeared as lead counsel for respondent in merits review proceedings relating to proposed $110 million estate
University of Canberra v Zierholz@UC Pty Ltd [2020] ACTCA Appeared for applicant (led by T Lynch SC) in contested application for security for costs on appeal.
HTI Watson Pty Ltd v Commissioner for ACT Revenue [2020] ACAT Appeared for applicant (led by Philiip Walker SC) in contested merits review proceedings regarding lease variation charge payable on estate development.
Song & Ors v Commissioner of the Australian Federal Police [2019] VSCA 206. Appeared for applicant (unled) in application for extension of time to appeal the making of restraining orders under Proceeds of Crime Act 2002 (Cth).
Capital Recycling Solutions Pty Ltd v Planning and Land Authority of the ACT [2019] ACTSC 58. Appeared for applicant (led by Tom Howard SC) in application for judicial review of decision of Planning & Land Authority purporting to revoke previous development approval.
Staunton v Parfit Investments Pty Ltd [2018] NSWSC Appeared for applicant (unled) in application for leave to proceed against company in liquidation.
Commissioner of Australian Federal Police v Karmadonov and Ors (QSC 18/5/18 & 12/8/16 – restricted publications). Appeared for respondents (led by Peter Davis QC) in applications for declarations concerning the conduct of compulsory examinations under the Proceeds of Crime Act 2002 (Cth).
Dunn v Hanson Australasia Pty Ltd and Ors [2017] ACTSC 169; (2017) 12 ACTLR 138. Appeared for plaintiffs (unled) in claim for damages for defective residential building work involving breaches of statutory warranties implied by Building Act 2004 (ACT), misleading or deceptive conduct contrary to Trade Practices Act 1974 (Cth) & proportionate liability
Publications
It's not (just) my fault: Proportionate liability provisions in the ACT. ACT Law Society, October 2018.
Gone in 60 seconds: statutory forfeiture in the ACT. Ethos, February 2017.
Affidavits that support your cause of action. Legalwise, March 2014.
Setting aside statutory demands. ACT Law Society, February 2014.
Compulsory examinations and the right to a fair trial. NSW Bar News, January 2014.