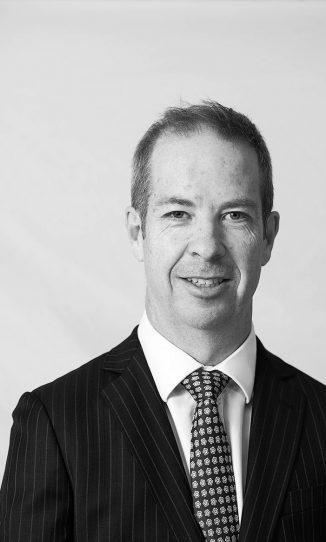 Marcus has more than 20 years' advocacy experience in a range of jurisdictions and tribunals, including 13 years with the Commonwealth DPP. Marcus accepts briefs in a range of matters including commercial, administrative law, family law and criminal law, and has a particular interest in matters requiring skilful cross-examination and/or consideration of complex financial arrangements. Marcus was previously the CDPP's principal lawyer responsible for federal proceeds of crime proceedings, and maintains a specific expertise in this area. Marcus is also a retired soccer referee.
Called to the Bar
2011
Phone
02 6130 0560
Email
hassall@blackburnchambers.com.au
Practice areas
Appellate
Commercial law
Criminal law
Family law
Inquests and inquiries
Proceeds of crime
Public / Administrative law
Town planning and development

Cases
Capital Recycling Solutions Pty Ltd v Planning and Land Authority of the ACT [2019] ACTSC 58.  Junior counsel (led by Tom Howard SC) in successful application for judicial review of decision of ACTPLA purporting to revoke its own previous development approval.
Staunton v Parfit Investments Pty Ltd [2018] NSWSC 1857.  Successful application for leave to proceed against third defendant (in liquidation).
Director of Public Prosecutions (ACT) v DL [2018] ACTCA 61.  Appeared as lead counsel for interested party in DPP reference appeal concerning meaning of "prejudicial effect" in s 101(2) of Uniform Evidence Acts where prejudice relates to conduct of defence of other proceedings.
Sahrawi & Hadrami [2018] FamCAFC 170.  Lead counsel in successful appeal from decision of Family Court regarding application for return of parties' children to Saudi Arabia.  Trial judge failed to afford procedural fairness to father and incorrectly applied M v M (1988) 166 CLR 69.
Director of Public Prosecutions (ACT) v Booth [2018] ACTCA 61.  Appeared as lead counsel for interested party in DPP reference appeal concerning claim of right defence in s 38, Criminal Code (ACT).
II Developments Pty Ltd v II Developments JV Pty Ltd [2017] ACTSC 504. Successfully opposed
application for immediate dissolution of partnership on just and equitable grounds and breakdown of
relationship between corporate partners
Dunn v Hanson Australasia Pty Ltd and Ors [2017] ACTSC 169; (2017) 12 ACTLR 138. Appeared on successful
claim by plaintiffs for $386,210 damages for defective residential building work involving breaches of
statutory warranties implied by Building Act 2004 (ACT) and misleading or deceptive conduct
contrary to Trade Practices Act 1974 (Cth).
Commissioner of Australian Federal Police v Karmadonov and Ors (QSC BS9709/14).
Briefed for respondents in relation to $30 million held in bank accounts alleged by Commissioner of
the Australian Federal Police to be proceeds of offences by Russian respondents.
Liangis Investments Pty Ltd v Conservator of Flora and Fauna [2017] ACAT 13. Appeared for
respondent in successful proceedings to defend decision under Tree Protection Act 2005 (ACT).
Wang v Australian Capital Territory [2016] ACAT 71. Appeared for plaintiff in successful application
under Discrimination Act 1991 (ACT). Policy to prioritise grants of medical internships to local and
interstate graduates over overseas trained doctors found to constitute racial discrimination within
meaning of Act.
Australian Capital Territory v ACT Civil and Administrative Tribunal and Anor [2015] ACTSC 370.
Judicial review application. Appeared for the respondent, successfully resisted an application by
the A.C.T. for disqualification of ACAT tribunal member from further hearing of complaint of racial
discrimination.
Islam v Director-General of the Justice and Community Safety Directorate [2015] ACTSC 20.
Successfully appeared for respondent to resist application for compensation for alleged breach of
Human Rights Act 2004 (ACT) and Corrections Management Act 2007 (ACT) by failure to provide
incarcerated plaintiff with 'full-time, meaningful employment'.
Reardon v Stokes Contractors Pty Limited [2015] NSWSC 960. Appeared for appellant in
successful appeal from NSW Local Court regarding contractual dispute. Appeal upheld on basis
that finding in favour of plaintiff on evidence not open to Magistrate at first instance.
Pocock v Psychology Board of Australia (Occupational Discipline) [2014] ACAT 54. Appeared for
respondent in successful proceedings for occupational discipline against psychologist making
controversial public utterances—right to take part in public life—freedoms not absolute—
professional associations may impose restrictions on public statements.
Slipper v Magistrates Court of the ACT and Ors [2014] ACTSC 85. Appeared as junior counsel for
plaintiff in application for permanent stay of criminal proceedings on the basis that plaintiff
prevented from adducing evidence in his defence due to parliamentary privilege.
Co-ordinated Constructions Pty Ltd and ACT Construction Occupations Registrar and Ors
(Administrative Review) [2012] ACAT 55. Appeared for respondent in successful proceedings for
rectification order under Building Act 2004 (ACT).
Commissioner of Australian Federal Police v Dickson and Ors [2012]. Appeared as junior counsel
for Commissioner of the Australian Federal Police in application for restraining orders under the
Proceeds of Crime Act 2002 (Cth) re in excess of $40 million property alleged to be proceeds of
sophisticated tax fraud.
Chen v Director of Public Prosecutions (Cth) [2011] NSWCCA 205. Junior counsel for respondent in
appeal regarding conviction for money-laundering offence under Commonwealth Criminal Code.
Dealing with money intended to become an instrument of crime—whether same conduct can
constitute the intended crime.
Publications
It's not (just) my fault: Proportionate liability provisions in the ACT. ACT Law Society, October 2018.
Gone in 60 seconds: statutory forfeiture in the ACT. Ethos, February 2017.
Affidavits that support your cause of action. Legalwise, March 2014.
Setting aside statutory demands. ACT Law Society, February 2014.
Compulsory examinations and the right to a fair trial. NSW Bar News, January 2014.