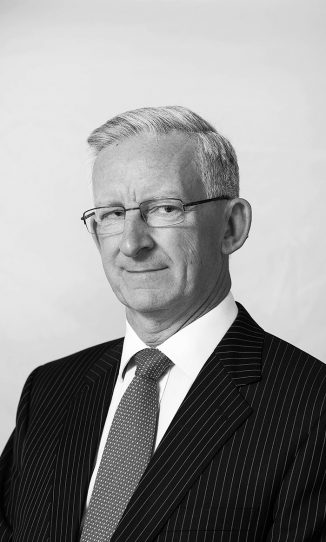 Philip was called to the Bar in 1988 and appointed as Senior Counsel in 2013. He has extensive experience in public and commercial law. He has practical knowledge of both territory and federal legal practice. Philip is also a Military lawyer, with both disciplinary and inquiry experience.
In 2018, Philip was recognised in Doyle's Guide as a leading Commercial Litigation & Dispute Resolution Barrister in the ACT.
He has interests in English and European history particularly military and legal history.
Appointed as Senior Counsel
2013
Called to the Bar
1988
Phone
02 6230 6650
Email
walker@blackburnchambers.com.au
Practice areas
Appellate
Commercial law
Equity and trusts
Inquests and inquiries
Public / Administrative law
Revenue and tax law
Town planning and development

Cases
John Pfeiffer Pty Ltd v Rogerson [2000] 203 CLR 503—Acted as junior counsel to the ACT
Attorney-General appeal to the High Court of Australia. Appeal was centred primarily on conflict of
laws issues.
Wreck Bay Aboriginal Community Council v Williams [2017] ACTCA 46. Question of inconsistency
between Commonwealth law and ACT as it applies in the Jervis Bay Territory.
"A Revenue Matter". $150 million stamp duty case involving Caribbean share transfer.
HMAS Success Commission of Inquiry 2010–2011. Counsel for the executive officer at the HMAS
Success Commission of Inquiry—"Allegations of unacceptable behaviour and the management
thereof".
ACT Bushfire Inquiry 2003. Counsel for the Chief Fire Control Officer in a coronial inquiry into the
2003 Canberra Bushfire, which resulted in four deaths, the destruction of 487 homes and 23
commercial and government premises.
The Queen v. Ali Asgha Donyadideh [1993] 115 ACTR. Constitutional issue arising out of attack on
Iranian Embassy
ACT v Pinter [2002] 121 FCR 509. Retrospective removal of criminal injuries compensation rights
and unjust acquisition of property case argued before the Full Court of the Federal Court of
Australia.
Steelforce Trading Pty Ltd v Parliamentary Secretary to the Minister for Industry, Innovation and Science (No 2) [2018] FCAFC 47. Custom anti-dumping on imported steel
Leda Commercial Properties Pty Ltd v Brenda Hungerford Pty Ltd [2018] ACTCA 17. Misleading and deceptive conduct
Denham Constructions Pty Ltd v Republic of Pakistan. Commonwealth constitutional issue under
Building Security of Payments Act.
Supabarn Supermarkets P/L v Cotrell Pty Ltd. Lease dispute between supermarket and shopping
centre, currently reserved by Penfold J of the ACT Supreme Court.
Trust Company Ltd v ACT Planning Authority. Valuation and change of use charge for five
Canberra City office buildings.
Re Sports Alive Pty Ltd (in liquidation) [2013] VSC 69. Application to determine whether funds held
by online sports betting agency were held on trust.
HJA Holdings Pty Ltd and Ors v Commissioner For Act Revenue. Payroll tax grouping case of 18
leisure, land development and technology companies.
Amarso Pty Ltd and Ors and Act Planning And Land Authority. Land development matter for
development of 332 residential units and 11 commercial units.
Board of Inquiry into Disability Services 2001. Counsel for the Australian Capital Territory in an
Inquiry into Disability Services in the ACT following four deaths.
ACT Legislative Assembly Committees. As President of the ACT Bar Association, appeared before
ACT Legislative Assembly Committee hearings for:

a proposal to reduce damages for personal injuries arising from motor vehicle accidents
a proposal to abolish the defence of self-defence when unlawfully arrested by police
a review of the ACT self-government legislation.
Publications
Philip Walker SC, "Enforcement Mechanisms in ACT Land and Environment Legislation" —Co-authored Walker/Cohen
Philip Walker SC, "The Role of Proportionality in Administrative Decision-Making" Legalwise Seminar Canberra 24 February 2010
Philip Walker SC, "Statutory Interpretation: The Modern Approach" Legalwise Seminar Canberra 23 February 2011
Philip Walker SC, "Ethics and Evidence" ACT Law Society Government Group
Philip Walker SC, "Written Submissions" Office of the Director of Military Prosecutions